About the Firm
Biography of
Richard F. Goodstein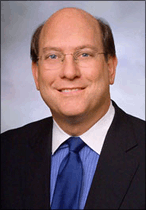 B.A. — Wesleyan University
(CT), 1974
J.D. — Georgetown University Law Center, 1978
Georgetown Law Review
---


About The Firm
Biography of Richard F. Goodstein
Richard Goodstein, the principal in Goodstein & Associates, displays a rare combination of first-rate legal acumen and sophisticated political skills and relationships.

Biography of Richard F. Goodstein
Richard Goodstein helps clients understand, anticipate, and navigate the public policy arena. He has represented leading national and international interests for almost thirty years. As the principal with Goodstein & Associates, Mr. Goodstein has represented clients spanning the industrial gas and chemical sector, high-tech, healthcare, environmental services, energy, and mail delivery.
Previously, Mr. Goodstein served as Divisional Vice-President for Browing-Ferris Industries, one of the world's leading environmental services companies. In that capacity he ran a large Washington government relations office; testified before Congress on a number of occasions; organized coalitions that found common ground between strange bedfellows (libertarians and environmentalists, for example); served as the liaison of BFI CEO William D. Ruckelshaus, former EPA Administrator, to the President's Council on Sustainable Development, a blue ribbon panel appointed by President Clinton and Vice President Gore; and spoke frequently at national conferences and before industry analysts.
In 1992 Mr. Goodstein was named to the transition team at the Environmental Protection Agency by President-elect Clinton.
---
Prominent business and political leaders have sought his advice.
---
Mr. Goodstein appears frequently on the nation's leading cable news channels as a political and legal expert.

President Clinton and Vice President Al Gore named Mr. Goodstein to serve on Builders for Peace, a high level organization with the mission of creating economic opportunity in the Middle East following the first Israeli-Palestinian peace agreement in September 1993. As a member of Builders for Peace, Mr. Goodstein was dispatched as a member of a formal delegation on behalf of the Clinton White House to serve as a witness to the signing of a subsequent peace agreement between Israel and the Palestinians in 1994. He met with a wide range of Israeli and Palestinian leaders as a member of Builders for Peace.
Mr. Goodstein spent the earlier part of his career with Wilmer, Cutler & Pickering (now Wilmer, Cutler, Pickering, Hale and Dorr), one of the world's most respected law firms. There he worked on a wide variety of nationally significant investigations by the Securities and Exchange Commission, the Antitrust Division of the U.S. Department of Justice, the Food and Drug Administration, and a bankruptcy trustee in connection with a $300 million computer fraud in New York. He also handled the defense in a first-degree murder case.
Capitol Hill was in his blood from an early age. He was a Legislative Assistant to Senator Abe Ribicoff (D-CT), one of the most respected members of the Senate in his day, and worked for Senator Hubert Humphrey (D-MN) on a wide range of issues, including campaign finance reform.
Mr. Goodstein has outstanding academic credentials. He received his B.A. with honors from Wesleyan University (CT) in 1974 and his J.D. magna cum laude from Georgetown University Law Center in 1978, where he served on the Georgetown Law Review. Following law school he clerked for the Honorable William B. Bryant, Chief Judge of the United States District Court for the District of Columbia.
Involvement in politics has been a constant. He ran a statewide field operation in Connecticut, has advised most Democratic presidential campaigns since 1984, mastered delegate selection laws, helped with congressional outreach for several campaigns, ran outreach to environmental business leaders in the 2000 and 2004 presidential campaigns, and has served as a spokesperson for Democratic presidential candidates on radio and television since 1996.
MSNBC signed up Mr. Goodstein to appear as a political and legal analyst during the Lewinsky matter in 1998-99. He has appeared hundreds of times on cable news channels, including CNN, BBC, MSNBC, Fox News Channel, and shows including the O'Reilly Factor, Hannity & Colmes, Fox & Friends, and primetime shows hosted by Keith Olbermann, Paula Zahn, Dan Abrams, Geraldo Rivera, and Brian Williams. Rich Goodstein is known as someone who can speak succinctly and persuasively on a wide range of topics. The same expertise that generates demand for his opinions on the airwaves has proven to be of great value to his clients.